Can we use technology to improve the way we prepare, cope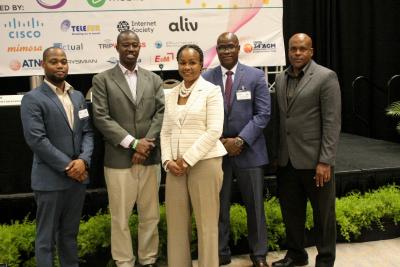 with and recover from natural disasters? Chief Innovation and Product Officer at PIEDATA, Ayodele Pompey believes that the solution may be at hand soon, quite literally, in the form of a smartphone app.
Pompey introduced the 150 plus delegates at CANTO's 34th Annual General Meeting and mini-expo on Monday to the SONAR App, a product originating from CANTO's annual Hackathon, CANTO CODE (Caribbean Organized Developers and entrepreneurs), organized by PIEDATA, which he believes can revolutionize the way the region treats with the preparation and aftermath of natural disasters.
Referring to Dominican Prime Minister, Roosevelt Skerrit's plea for help on Facebook last year, having lost his roof in the aftermath of Hurricane Maria, Pompey suggested that the use of SONAR, could have provided greater benefits in such a situation.
"What if there was a different way? A more fit for purpose way to communicate during a disaster? What if the PM could have communicated that information directly and in real time to disaster coordination teams in Dominica or mark himself safe through the application?" asked Pompey. "And what if, after the event, where a lot of the work goes in, we could provide anyone, anywhere in the world, with the ability to contribute to the relief efforts by being able to send money no matter how small it was? What if we could be more efficient in that regard? I think this app can drastically change the way we respond to these disasters and help us to become more resilient."
SONAR is essentially an innovative social communication, disaster management and relief application. It is a platform made up of many components and works specifically with the disaster management authority in each country to make dealing with natural disasters more efficient. The app will provide local disaster management organizations such as the ODPM, as well as the general public, with the ability to do a number of things such as mark oneself as safe during any natural disaster, disseminate news related to impending disasters quickly and consistently, donate and receive relief aid from anywhere in the world and provide live updates in the form of photos and videos from both the general public and national disaster authorities, among other things, all within the app.
Of course, with the use of technology in such ways throughout the region, the question of cyber security becomes of paramount importance. Given the mass movement from physical to digital data sharing and storage, and the need for many businesses and communities to adapt to this, TSTT's Chief Information officer, Paul Mayne addressed the issue of how to keep data safe in his presentation on 'Next generation Data Centre Security'.
 TSTT is a founding member of CANTO and co-host of the 3-day AGM, emphasizing its' commitment to the aptly chosen theme of the event this year; 'Guiding Digital Adoption to Lead the Global Market', not just in T&T, but the whole of the Caribbean region.
Mayne explained that cyber security is a topic that is very personal to him, having had his personal credit card information stolen once before and the consequences that came along with such. He explained that as a national telecoms company, TSTT understands that it has a responsibility to keep the data of the 2.5 million accounts it holds safe and is doing everything it needs to ensure such.
He outlined the high cost of cyber security and the changing nature of threats, which means that an investment in securing data centers will only be good for a few months now, as opposed to a few years, as it was in the past. None the less, he said TSTT is committed to protecting the data of their existing customer base.
"The most dangerous question you will ever have to answer to your business leaders or your Board of management is; 'Is this an acceptable risk not to have this security, not to make this investment?'" said Mayne. "It is no longer an acceptable risk for a data center. As a national telecoms company, it is not acceptable for us not to protect every piece of information, every credit card, every address, every social security number and every telephone number."
 Mayne noted however that the Caribbean remained a high target for hackers due to its loose cyber security infrastructure and as such, the region must catch up to safeguard its citizens.
 The day also featured other presentations on trends in technology, media and communications, staying connected during disasters, a Caribbean risk management forum, using cloud technology and cyber security, among others.
Original : http://www.news.gov.tt/content/canto-launches-sonar-app-and-talks-cyber-security-tstt#.WrH8jejwa00